A brand-new Michigan News Source poll on the eve of the Michigan primary shows Tudor Dixon has dramatically expanded her lead in the race to become the Republican nominee for Governor. The poll reveals since picking up the endorsement of former President Donald Trump on Friday, support for Dixon has surged by double digits.
The poll commissioned with The Trafalgar Group shows Dixon's support since Friday has exploded from 28% to 41% and gives her a commanding lead going into Tuesdays primary.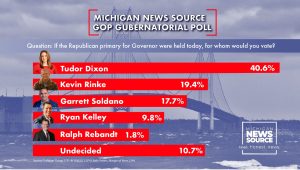 MORE NEWS: DePerno's Former AG Opponents Have More Cash On Hand
Dixon is followed by businessman Kevin Rinke with 19% support, chiropractor Garrett Soldano at 18%, West Michigan businessman Ryan Kelley at 10% and Pastor Ralph Rebandt at 2%.
In a Michigan News Source Poll released on Friday, Dixon had 28% support of those surveyed, and that means the endorsement of Donald Trump has jumped her lead dramatically by 13 points and gives her a 22 point advantage over Rinke and appears to have put the race out of reach of her competitors.
Polls in Michigan open tomorrow at 7am and close at 8pm.
The race for the GOP Gubernatorial nomination in Michigan is one of the hottest races in the nation and the winner will face Democrat incumbent Governor Gretchen Whitmer on November 8th in the General Election.