GRAND RAPIDS, Mich. (Michigan News Source) – GOP gubernatorial candidate Tudor Dixon unveiled what she called her $1 billion "Building a Safer State" strategy on Tuesday.
Dixon spoke in Grand Rapids alongside Lt. Gov. candidate Shane Hernandez, Kent County Sheriff Michelle LaJoye-Young, state legislators, local police officers, and community members.
MORE NEWS: Second Debate Set for Michigan Governor's Race
"Violent crime is skyrocketing in Michigan at nearly twice the national rate under Gretchen Whitmer's failed leadership and the people of Michigan are suffering as a result," said Dixon. "Michigan families deserve to feel safe in their communities and law enforcement needs to know we always have their back. Building a Safer State is my plan to do just that and make public safety the priority our families deserve."
More information on Dixon's plan can be found here. 
According to a press release, Dixon's strategy would invest $1 billion new dollars over the next four years to recruit and retain more than 5,000 new local officers, more than 5,000 new fire and EMS personnel, 500 state troopers, and 2,000 state and local corrections officers.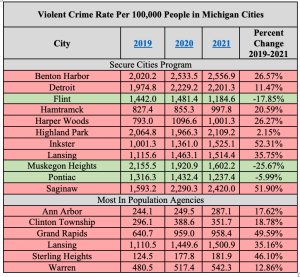 "Gretchen Whitmer failed to do her most basic job and embraced the radical anti-police politics that allowed criminals to roam free and caused Michigan's violent crime rate to go from 14th to 9th in a matter of two years," said Hernandez. "We will never put a political agenda ahead of safety and will always be committed to policies that improve the lives of Michigan families."
The general election is November 8.