LANSING, Mich. (Michigan News Source) – GOP Co-chair Meshawn Maddock said she will "never back down" from comments she made this week calling U.S. Transportation Secretary Pete Buttigieg a "weak little girl."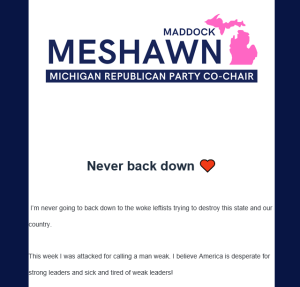 Maddock's comments last week referenced Buttigieg who has moved to Northern Michigan with his husband and children. Michigan News Source reached out to Maddock earlier this week for a comment and she did not respond.
MORE NEWS: Second Debate Set for Michigan Governor's Race
She missed the point of what got people irritated. She made an unnecessary and derogatory comment. That's all

— Nick Wake (@realNickWake) September 16, 2022
Yes, "weak" was the part of the phrase that people took issue with 🙄

— Connor Wilton (@ConnorJayWilton) September 15, 2022
Several Republicans have denounced Maddock's comments and criticized her for making a derogatory comment about Buttigieg's sexual orientation and gender rather than his public policy record.
The Michigan GOP is attempting to look forward as its leadership flounders. GOP gubernatorial candidate Tudor Dixon will rally with former President Donald Trump in Warren on October 1.
MORE NEWS: Pistons Open Preseason in New York Losing to Knicks
The general election is November 8.