DETROIT (Michigan News Source) – GOP Secretary of State candidate Kristina Karamo is pushing back against two major Michigan news outlets, saying a sit-down interview with their reporters offers "zero chance of a fact-based interview making it through their bias and out to the public."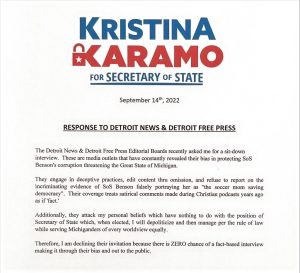 The Detroit News has been back and forth on social media with Karamo this week.
MORE NEWS: Second Debate Set for Michigan Governor's Race
I believe the @detroitnews has multiple interview requests in with your campaign.

Still waiting to hear back on those. https://t.co/GDS0WbTU9u

— Craig Mauger (@CraigDMauger) September 15, 2022
We've had TWO press conferences, media advisories were sent @CraigDMauger, and you and any member of the press were welcome to attend, and ask whatever questions you like. Also I have been at multiple events where YOU could have approached me and interviewed me there. Be honest. https://t.co/wjx4XcVRQX

— Kristina Karamo (@KristinaKaramo) September 15, 2022
In August, Michigan News Source wrote a profile article on Karamo and her opponent, Secretary of State Jocelyn Benson. Both campaigns were polite and easy to work with.
MORE NEWS: Pistons Open Preseason in New York Losing to Knicks
The general election is November 8, and early voting begins September 29.