LANSING, Mich. (Michigan News Source) – The announcement of Gov. Gretchen Whitmer's 11-person Parents' Council on Monday comes on the heels of bad press between her administration and the Michigan Department of Education (MDE).
Last week, the MDE released training videos that instructs teachers how to help children sexually transition and appears to recommend that teachers hide a child's "chosen name and pronouns" from their parents. In addition, it recommended hiding information even if the child is suicidal.
MORE NEWS: Road Work Closures Start in 100 Locations This Week
A list of the videos can be viewed here.
GOP gubernatorial candidate Tudor Dixon spoke out against the training videos and challenged Gov. Whitmer to condemn what Dixon called "radical and dangerous nonsense."
"What is wrong with these people? Make no secret about it – our own state agency is being weaponized to actively recruit our kids and advance their radical gender theory with zero input from parents," Dixon said in a press release.
"My position is very clear: Our schools need to stop pushing radical sex and gender theory and instead get back to teaching kids how to read, write, and do math."
The leak of the training videos prompted a response from Michigan's Chief Operating Officer Trish Foster who sent this letter to State Superintendent Dr. Michael Rice.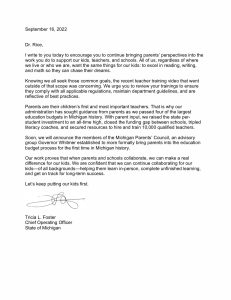 Foster is no stranger to providing stop-gap measures to bad press. In April 2021, Facebook photos posted by Foster showed her vacation in Florida despite Gov. Whitmer's strict orders to stay home from spring break trips to stop the spread of COVID-19.
"Parents are their children's first and most important teacher, and we need their input to help our kids thrive in school," said Gov. Whitmer in a press release.
MORE NEWS: Top 25 ArtPrize Artists Revealed
Those who applied but were not selected for the 11-person council received a rejection letter which boasted Whitmer's goal of creating a "diverse group of experts and community leaders."
Below are the council members:
Blanca J. Astua, of Holland, is a health promoter for Strangers No Longer.
LaQuitta Brown, of Detroit, is a certified nursing assistant at Boulevard Temple Care Center in Detroit and as a COVID-19 health screener for Great Lakes Wined and Spirits.
Jennifer L. Figler, of Gwinn, is an active volunteer in her community and a former breastfeeding peer helper.
Cindy E. Gamboa, of Detroit, is the director of community organizing and advocacy for the Detroit Hispanic Development Corporation.
Sarah Kucher, of Birch Run, is a senior commodity buyer for ValuePoint Solutions.
Yazeed Moore, of Grand Rapids, is a senior programs officer for the W.K. Kellogg Foundation.
Bailey Nuss, of Traverse City, is the Northwest region impact director for the United Way of Northwest Michigan.
Ranya Shbeib, of Bloomfield Hills, is a co-founder and board member of the Muslim Foster Care Association and a member of the Michigan Foster Care Review Board.
Tracey Troy, of DeWitt, is a project manager for Dart Container Corporation and president of the Michigan PTA. The Governor has designated Ms. Troy to serve as the Chair of the Council.
Rafael Turner, of Grand Blanc, is the manager of community affairs for Consumers Energy.
Monique Zantop, of Jackson, is a co-founder of Birthbrite.