TRAVERSE CITY, Mich. (Michigan News Source) – In a 1700 square foot heated gray pole barn high atop a hill in Traverse City sits Northern Lower Michigan's North Pole. Only it operates all year long. In Diana DeYoung's pole barn, every Friday, which is called "Miracle Friday" you will see a group of female elves putting together shoeboxes for the Samaritan's Purse Operation Christmas Child Program. At the bottom of the hill, you will see an "Operation Christmas Child Drive" sign.
Samaritan's Purse is a disaster relief organization and Operation Christmas Child is one of their programs.The mission of Operation Christmas Child is to "demonstrate God's love in a tangible way to children in need around the world." They do that by putting toys, clothing and personal care items in shoeboxes to be distributed to children all over the world.
MORE NEWS: Michigan-based Dow to Cut 2,000 Employees from Workforce
The program was started in the summer of 1993 when Samaritan Purse President Franklin Graham got a call from a man in England asking if he could fill shoeboxes of gifts for the children in war-torn Bosnia. Since 1993, more than 198 million children in more than 170 countries and territories have received an Operation Christmas Child shoebox.
A lot of those boxes have come out of a Traverse City pole barn which was recently expanded to meet the needs of the program. The labor and materials were donated to the program –  in another "miracle" according to DeYoung.
On Friday, November 11th, a blue trailer left the DeYoung pole barn with 5,304 shoeboxes loaded in the back, the result of more than 1300 hours of volunteer hours.
The volunteer female elves who show up to DeYoung's pole barn every Friday have a goal to fill 100 shoeboxes every week – and they made it pretty close to that goal this year. Volunteer Melodie Story says of the opportunity to help, "It's always 'Miracle Friday.' There's always something exciting and fun happening every Friday."
DeYoung first started volunteered with Operation Christmas Child more than 20 years ago and has been a regional coordinator in the past. Now, she just packs boxes. A LOT of boxes. With the help of her friends. Some of the volunteer have been around for years and some are new but all are joyous and grateful for what they are able to be a part of.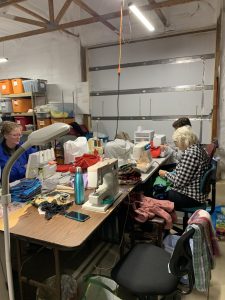 Volunteer Kathy Melito said, "Everyone says that when you touch something you think about the children who are going to receive it and how it's going to bless their lives…and it's meaningful. We want good things for these children."
DeYoung's mother, 89-year-old Carolyn Wolgamott is also a volunteer and said, "This is the joy of my life."
MORE NEWS: MSU Football Players Making Deals in U of M Tunnel Altercation
The shoeboxes can contain many things and Samaritans Purse gives everyone a list of what kind of items should and shouldn't be in the boxes. The shoeboxes usually contain things like a clothing item, toys, a personal note, crafts, small stuffed animals or dolls, a small musical instrument, school supplies and personal care items like a comb, toothbrush, washcloth, bandages or a blanket.
DeYoung's Traverse City elves have more than eight sewing machines at their disposal and when Michigan News Source went to visit the North Pole Barn, there were three women sewing dresses and bags to put in the shoeboxes. The group also has volunteers who knit washcloths and crochet hats and scarves.
Volunteer Mary Jo Bellows wanted to make sure that everyone knows that one shoebox doesn't just affect the life of the one child who receives it. Bellows said, "One shoebox can reach seven people… the child gets the shoebox, takes it home, grandparents, brothers and sisters and parents, all are touched by these shoeboxes."
When the blue trailer took off down the hill with the shoeboxes in it, it went to a local collection center at a church to add to the many other shoeboxes that were brought to them from relay centers and volunteer locations like DeYoung's pole barn.
From there they go on to a processing center (probably Chicago) which will send them out to about 100 different countries. But first, volunteers go through the boxes to make sure there are appropriate items inside. They also take out any shipping money in the boxes. Then they tape them shut and load them up for their next destination overseas.
Once they get to their final designation in the country they were sent to, there is a team of volunteers that has been set up who go to the port and get transportation to take the shoeboxes to a storage place where they can be distributed from.
If a volunteer who put together a shoebox wants to pay for shipping online, they can get a label and track to see what country the box ended up in. It's an incentive for volunteers to go online to pay for the shipping and not put money in the boxes.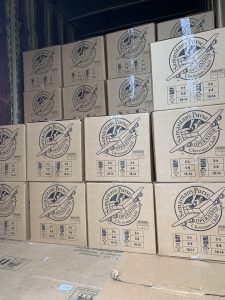 Shipping for each box is $10 and DeYoung pays about $14,000 of it herself every year by not taking a salary at her part-time job at a re-sale shop. She puts all of the money into her nonprofit organization called Unlimited Hidden Treasures. But even with that huge amount donated, she still needs to come up with another $39,000 by next October.
The children overseas don't usually get the shoeboxes by Christmas but the Christmas and the "giving" part of it is for the Americans. It's a holiday experience for Americans to buy items and donate them leading up to the holiday season. Many of the countries involved don't even celebrate Christmas.
The Operation Christmas Child organization tries to get more and more countries involved every year but some places are closed off to it, sometimes due to their feelings about the program, sometimes due to logistics. However, DeYoung was pretty sure that the boxes would be able to be sent into Ukraine this year.
Many of DeYoung's volunteers don't just give up their time, they also use their own money to buy items for the program. Since DeYoung's north pole operation is a yearly endeavor, she and her volunteers can shop all year long and find discounted items for the shoeboxes. One volunteer even called her one day about a deal on baggies which are used to put toothbrushes and other items into.
One of DeYoung's shoebox supporters gives her $500 a month to spend on shoebox items. DeYoung uses the money with the Oriental Trading company to buy jump ropes, flutes, bouncy balls, paddle balls and other things. DeYoung's employer has also donated items when her store is overstocked with inventory.
The day after the trailer left, DeYoung's elves already started on the 2023 shoeboxes. The "packing party" that occurs every Friday is almost a full day from 9 am to 3 pm with a lunch break in between where one of the volunteers makes a meal and they go up another hill to DeYoung's house to share the feast. DeYoung says there are about 10 to 15 volunteers in all, with about half of them sewing and the other half sorting and packaging and re-packaging.
DeYoung was very complimentary about the Samaritan's Purse organization and said, "They are very frugal with everything… That is very important to me. If I'm going to be spending my time and money, I want to know that the money is going where they say it's going." And about her volunteers, she says, "These ladies are so precious…"
DeYoung is amazed at how many millions of shoeboxes get delivered to the children all over the world. She said "I don't know about any other ministry that can reach that many children in one year."
If you would like to donate items, shipping money, sew or knit towards Dianna's project you can contact her at occtcd@gmail.com