BAY CITY, Mich. (Michigan News Source) – President Joe Biden plans to visit Michigan on Tuesday, Nov. 29.
According to the White House, President Biden will visit Bay City where he's expected to discuss manufacturing progress.
MORE NEWS: Michigan Offers $65M For Recreation Projects, But Only One Taker So Far
This will be the President's second trip to Michigan this year.
In September, he attended the North American International Auto Show in Detroit, where he could be seen holding hands with Michigan Gov. Gretchen Whitmer.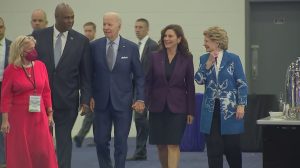 The exact time and location of President Biden's visit will be announced later, according to the White House.