LANSING, Mich. (Michigan News Source) – Democratic Michigan Governor gave her fifth State of the State Address in Michigan's Capitol on Wednesday outlining her priorities for the state during her second term. But one thing that was not on the list is the reform needed to be made to the state's 2019 no-fault auto law that continues to devastate Michiganders across the state. The topic never came up.
Michigan News Source recently reported in detail how the no-fault auto insurance law crisis is continuing to wreak havoc on patients and caregivers across the state as well as how it is affecting current insurance customers who don't understand what the 2019 legislation means to them after getting approved by the Michigan legislature and signed into law by Gov. Whitmer.
MORE NEWS: Finlandia University Campus Items and Equipment Up for Auction
After Gov. Whitmer's speech Wednesday night, Barry S. Cargill, the CEO of Michigan HomeCare & Hospice Association (MHHA), released the following statement, "The Michigan HomeCare & Hospice Association looks forward to working with Gov. Gretchen Whitmer on policy priorities for 2023. In addition to the new top priorities she announced in her State of the State Address, there is a remaining legislative priority to resolve, fixing auto no fault provider reimbursement."
MHHA describes their organization as "The unified voice, principal resource and advocate for the success of its member organizations as best practice providers of home health, hospice, palliative care, private duty, home medical equipment and pharmacy-infusion services for the residents of Michigan." Established in 1981, they represent more than 250 members from the home care & hospice industry.
Cargill went on to say in his statement, "This issue is the low hanging fruit as the votes are there to pass it now. We look forward to working with Gov. Whitmer and new legislative leaders to correct the mistakes made in the previous session when the legislature amended the 2019 insurance reform law. Restoring reasonable reimbursement for home care services for catastrophically auto crash survivors injured in the past, present and today will save lives and jobs."
Little Annabelle is one of the priorities that Cargill described. Hers is one of those lives whose existence is only seen, heard and felt by her family, her nurses and the limited amount of people she sees when she's able to leave the house.
Annabelle was in an auto accident on February 4, 2021 when she was only three-years-old which resulted in a spinal cord injury and a traumatic brain injury. She received medical care at the University of Michigan and now lives with her mom at her grandpa's house in southeast Michigan. Annabelle is a quadriplegic and is on a ventilator, requiring 24-hour care. Annabelle's mother, Brandi, talked with Michigan News Source about Annabelle and the care she requires. She also discussed how the no-fault law and the insurance company keeps her family at a disadvantage from getting the kind of care her five-year-old daughter deserves.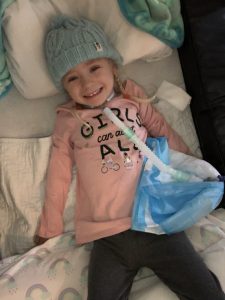 Brandi said that she's been dropped by several transportation companies because the insurance company takes months and months to pay them. She's worried that the nursing care she has will also be gone someday as well because the one agency she found that would work with her might someday have to throw in the towel after not getting paid for so long.
The slow payments seem to be happening at the home care level as a previous Michigan News Source story explained. With slow payments and nonpayments happening to many caregivers in Michigan, third-party companies are refusing to work with patients who were injured from auto accidents and many family caregivers find themselves in a constant battle with insurance companies over getting equipment and supplies that patients require to live. The insurance companies often consider such things as luxuries leaving the families to live in instability and wonder what will happen next. Other needed supplies remain on back order because of COVID-19 and the supply chain problems.
Brandi is suffering from emotional and physical exhaustion as are many other family caregivers taking care of an injured loved one at home, No one knows about them because they are hidden away behind closed doors without a personal lobbyist to plead their case. It's easy for the politicians to ignore Brandi and Annabelle because they spend their days in southeast Michigan and don't have time to visit their legislators or post on Facebook or TikTok about what is going on. They are in survival mode, doing what needs to be done every day.
Although Annabelle is mostly a happy child, she still gets depressed and can see what she is missing when she watches her nurses, mom, brother, grandpa and others leave the room and go outdoors. And she knows they are able to go out and visit McDonalds or Walgreens which she thinks is a toy store because of the ads that she has been seeing.
When Annabelle heard that her mom was going to be talking to Michigan News Source, she told her mom, "This is what I want you to tell them…I matter and you matter."
That about sums it up – for Annabelle and Brandi – and the countless number of auto accident victims and their caregivers. But do Michigan legislators and the governor think they matter?
Annabelle's story can be viewed here.
More videos of Annabelle can be seen here and here.