KEENE TOWNSHIP, Michigan (Michigan News Source) – When Keene Township Board Supervisor Robert Simpson responded to public discourse about recalling the board, some community members of Keene took his word seriously.
On Friday, members of Project Keene and the community of the township submitted a collection of signatures aimed at recalling two members of the township board: Township Supervisor Robert Simpson and Treasurer Kara Albert, beginning the process of a recall for the second time.
"If you're not happy with us – this is the second go around on the recall – get it, do it, that's the reality," Simpson said at the January Township Meeting."That's your right, your job, if you're not happy with us kick us out, that's your recourse."
"I am okay if I get recalled, I am good with it. I don't think we're hiding anything, I don't think we're doing anything illegal, all I am saying to you is, yep communication can be better, but it's a two way street too," he said.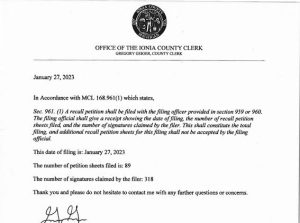 Kim Newell, a 37-year resident of Keene Township and a member of Protect Keene, shared her hopes for this second board recall attempt.
"My hope in this second recall attempt, is obviously, to win the election with two new board members who will make it a priority to listen to ALL of our township members, put our community as a priority over Invenergy, take seriously the many questions and concerns surrounding commercial wind & solar, and ultimately, respect and follow our master plan to keep Keene Township as the agricultural community that it is," Newell said in an email to Michigan News Source.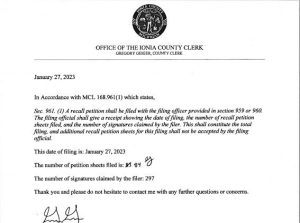 Another resident of the township for 30 years, Sandy Smiley, participated in the first recall attempt which was ultimately unsuccessful after numerous signatures were thrown out.
"Some were eliminated because the board members did not think the signatures looked good, and others were discarded due to small mistakes like forgetting what the date was and writing over that to correct it," Smiley said in an email to Michigan News Source, "It is our opinion that those being recalled were given more latitude than those with a constitutional right to sign and be heard."
While the recall for these particular board members were for different reasons, both stemmed from a lack of honesty, transparency, and intentional communication according to Smiley.
While the process had begun to recall another board member, according to some of the leaders of the recall, the group opted to not attempt to recall Keene Township Board Trustee and Member of the Planning Commission, Corey Wojcik.
In the letter, the group stated their trust in him and decision to rescind his recall petition.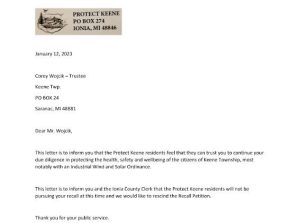 "Protect Keene residents feel that they can trust you to continue your due diligence in protecting the health, safety and wellbeing of the citizens of Keene Township, most notably with an Industrial Wind and Solar Ordinance," the letter said.
Ionia County Clerk, Greg Geiger, received the two petitions for recall on Friday and will have roughly a month to throw out invalid signers and then both recalled officials will have 20 days to challenge signatures according to Newell.
"With over 300 signatures and only 205 necessary, [the] likelihood is this recall will proceed," Newell said in an email, "Next Steps: WIN WIN WIN the special election. With a new board, we can put a restrictive ordinance in place that will be supported by our master township plan."
The targets of the latest recall responded to the question why they believe that the townspeople are attempting a second time to recall board members in a statement.
"We as the board asked that question to the recall group and the answer I got was they felt that it was their only option, replace the board and put people in office who didn't want solar by changing the township's ordinance to exclude all commercial solar in Keene.  They also told us that it wasn't personal, I suppose from their point of view it's not, but as a locally elected official who has lived in Keene my whole life, it bothers me  that people don't think we care.  We want what's best for our residents too, but as elected officials we have 1600+ residents to consider.  We have a process when it comes to making ordinances.  Public input is part of it and there has been no shortage of that.  The planning commission is trying to walk that fine line between property owners rights and having the township keep that rural feel which brought many of the residents to live here," Keene Township Board Members Simpson and Albert said in a statement.
Smiley offered some hopes for the future of Keene Township and the recall efforts.
"While we wait for the Ionia County Clerk to review the signatures and schedule a hearing, we will continue to meet and educate our neighbors, many of who are new here.  We will continue to research Large Commercial Solar projects, and their effects on infrastructure, safety, health, environment, and wildlife impacts. Many are concerned about the impact this will have on non-participating landowners and the value of their homes if they are next to a project," Smiley said in an email, "Impact fees paid to residents within 2 miles of a project will be suggested to the planning commission.  We also plan to visit some neighboring counties and see the Solar projects up close and we encourage our planning commission to do the same.  We have requested a further moratorium of one year on Solar and Wind so we give ourselves time to write the best ordinance possible for both. There is much to do.
Nearly 80 rural governments either banned or restricted solar energy projects last year."
The recall was submitted on Jan. 27 for the consideration of Geiger and the Board Members, just 18 days ahead of the next Keene Township Board meeting on Feb. 14.
MORE NEWS: Healthcare Workers Receive More Protections on the Job Thanks to Newly Signed Laws