BIG RAPIDS, Mich. (Michigan News Source) – Big Rapids resident Lori Brock is the owner of Majestic Friesians, a 150-acre horse farm in Green Charter Township. She has been a vocal opponent of the state of Michigan's push for the Chinese-owned Gotion battery plant to be located across the street from her property where she lives and has 20 horses.
MORE NEWS: Meet the Special Election Candidates, Two of Whom Who Will Determine Control of the Michigan House
Brock has questioned the safety of the plant moving in, along with many others in the community. They are concerned about many different aspects of the project including environmental issues, the company's Chinese ownership, water usage, and the traffic from up to 2,350 workers coming into the township.
Those concerns have led Brock to attend township meetings along with about 180 others in the community and she also held a "freedom rally" on her horse farm on April 22nd where hundreds from the surrounding area and supporters from all across Michigan showed up to protest the Gotion plant.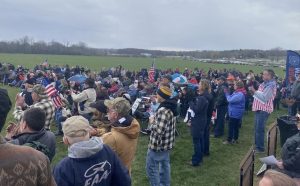 Image Credit: Lori Brock
Nine days after the rally, Brock got a call from the Michigan Dept. of Agriculture and Rural Development (MDARD). They told her that someone had complained about her farm and said she had dumped manure into a trout stream. She is expecting a visit from the state on Thursday. Brock says the state is trying to bully her – to shut her up because of her protests over the Gotion plant.
Brock told Michigan News Source, "It's retaliation. They're mad that I'm speaking out against Gotion." She said she's not worried about the visit and that "there's no way that I'm in violation of anything." When MDARD shows up on Thursday, they will be greeted by a crowd. Brock says she will have the news media in attendance to record the visit in addition to state representatives and former ambassador Pete Hoekstra. Brock says she doesn't trust anything they (the state) do anymore and she doesn't trust them on her farm.
Hoekstra says about his planned visit to the farm, "When the state uses extreme measures to intimidate its citizens we need to support people like Lori. She's standing up to support a place she calls home. She deserves all of our help."
Brock is very adamant that she doesn't want Gotion across the street from her and claims that 95% of the community doesn't either after doing surveys in the area. She said, "We don't want it here. It's dangerous. We're zoned agricultural, and they're trying to re-zone our property. There's nothing that's been truthful about this."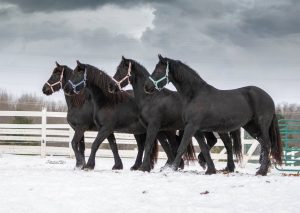 Image Credit: Lori ann Thwing Photography.
Brock has raised Friesian horses about 25 years and has lived on her farm for a decade. She is also raising her two daughters alone after her fiancé David Pierce died in May of 2017, leaving them a legacy of loving and taking care of animals.
MORE NEWS: Healthcare Workers Receive More Protections on the Job Thanks to Newly Signed Laws
But she might have to leave if the Chinese Gotion battery plant proceeds to move in. She said, "We can't let the animals be poisoned. That's going to be my number one concern. We'll keep monitoring the ground and everything to see when they start poisoning it, when we get a little bit of dust on there then we'll just pack up and leave."
She added, "This is not what Big Rapids was meant to be. We moved here because it was an agricultural forestry area, it's like an up north retreat area. And they're trying to put a three million square foot mega industrial building right in land that all has to be re-zoned."
Although many in Green Charter Township and Mecosta county are worried about the environmental implications of bringing such a large battery plant into the community, Chuck Thelen, Gotion's vice president of North American operations, has repeatedly told the community that the company takes environmental safety seriously and he said at a public meeting, "I've heard and read dozens of speculation topics and scare tactics really designed to make people believe that Gotion will destroy the environment. Nothing could be further from the truth."
Brock discussed the phone call from MDARD that happened on Monday. She said they are "trying to scare me is what it is and I'm not going to be scared by them. I'm going to continue to fight to keep this company out of this area…they're mad and they're trying to shut me up."
She said she voiced her disbelief to MDARD by saying, "So you're calling me about a little bit of horse poop that's a natural thing when you're not worried about the lithium battery factory coming in across the road that is going to be bringing in 220,000 tons of lithium? I've complained about ten times to you and you didn't investigate at all…"
On her personal Facebook page, Brock said, "What I care about is the contamination that Gotion could be bringing in. It just shows you what lengths they will go to if you speak out against them."
It's accurate to say that both sides probably consider this whole thing to be a bunch of horse crap.
According to the Michigan State University Extension, there are two options for small farms when it comes to managing manure – to spread it or store it. Farmers can collect the manure and bedding daily and load it in a spreader to spread it on cropland, hay land or pasture. The other option is to make a stock pile or store the manure for a period of time to spread or haul away at a later time.
Brock says that they spread the horse manure on the fields. She doesn't use any inorganic fertilizers – she uses horse manure. She added that people come to her farm to get manure to use in their gardens. She doesn't sell it – she just gives it away to neighbors who ask for it and she will even load it for them.
Brock said there aren't piles of manure all over the place and that they manage it well. She said if someone drove by her farm, it's "pristine" and for them (MDARD) to try to attack her is "harassment."
Michigan News Source reached out to MDARD to get clarification about the complaint that was filed against Brock. MDARD Communications Jennifer Holton said, "A Right to Farm complaint was forwarded to the Michigan Department of Agriculture and Rural Development's (MDARD) Right to Farm program on April 26, 2023 alleging manure run-off into tributaries of the Muskegon River. The complaint came in through the EPA to the Michigan Department of Environment, Great Lakes and Energy and then to the MDARD Right to Farm program."
Holton continued, "The Right to Farm program is following its normal procedures to work with the landowner to determine whether the complaint is valid. Under the Right to Farm Act, the program must schedule the inspection with the landowner, and it must be done within seven business days of receipt.  If the complaint isn't verified, there is no further action needed. If the complaint is verified, MDARD will work with the landowner to help address the possible run-off issues in accordance with the Generally Accepted Agriculture Management Practices (GAAMPs) under the Right to Farm Act. Farms who follow GAAMPs are afforded a certain level of protection if a nuisance complaint is filed against them."