DETROIT (Michigan News Source) – A new study from WalletHub ranked Detroit's inflation rate the second highest in the nation. The study compared data from 23 major metropolitan statistical areas (MSAs) defined by the Bureau of Labor Statistics, using the Consumer Price Index (CPI) to calculate how inflation has changed over the past two months and the past year.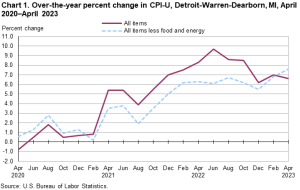 According to the study data, the CPI for the Detroit-Warren-Dearborn area has increased 2.10% over the past two months. The number is up 6.60% over a year ago. Shelter and new vehicles were among the largest contributors to the increase. Food prices rose by 7.6%, while energy prices fell 4.6%.
MORE NEWS: Legislators Seek Clarification Regarding Road Condition Lawsuit Filings
Robert C. Hockett, Edward Cornell Professor of Law at Cornell University, was quoted in the study and offered his opinion on the causes of rising inflation. "At this point the main driver appears to be opportunistic price-gouging by firms … hoping we will keep blaming price rises on the war and other supply chain disruptions," he said. When asked what could be done to curb inflation, he answered: "Two things: first, reshoring production and restoring America's once-globally-preeminent manufacturing sectors; and second, taxing away windfall profits gleaned through price gouging."
Another professor, Donald A. Hicks (Emeritus Professor of Political Economy and Public Policy at the University of Texas), provided a different opinion. "It would be difficult to deny that today's inflation is a complex consequence of recent federal policy failures … monetary (a too-long period of imposed low interest rates) and fiscal (excessive spending programs sold politically as pandemic therapeutics)," he said. "The first imperative is to understand that essentially an economy will – if left unattended – seek to right itself. So … stop fiddling with the dials!"
Hicks warned that the current inflation problem may not be solved anytime soon.
"Expect future inflation hostage-taking," he said. "Until we can develop improved understandings of how to encourage and enable innovation in its many varieties and enable economic growth in many forms, we're likely to continue to rely on policy initiatives that are not just mis-applied but inevitably mis-conceived."
Additional information from the Bureau of Labor Statistics is scheduled for release on July 12, 2023.