LANSING, Mich. (Michigan News Source) – A new poll from Michigan News Source and Trafalgar Group shows the hotly contested race to be the Republican nominee for Michigan governor is coming into the final weekend with Tudor Dixon, the West Michigan businesswoman, holding on to her lead in the five-way race, followed by the four men still seeking the GOP nomination.
The winner will take on incumbent Democrat Gretchen Whitmer who is looking to secure her second term in November. However, she is being slowed down by sagging approval numbers for President Joe Biden, the aftermath of the Covid-19 pandemic, and a sluggish economy in Michigan. New economic numbers released Thursday also show the nation is now in a recession which could create even more headwinds for Whitmer.
MORE NEWS: Road Work Closures Start in 100 Locations This Week
The poll commissioned by Michigan News Source included 1,098 likely voters and was conducted between July 26 and July 28. This came after attack ads were launched recently against Dixon, a political newcomer, by one of her Republican challengers Kevin Rinke, a businessman from Oakland County, in addition to a massive seven-figure ad campaign backed by the Democratic Governors Association.
The DGA dumped $2 million dollars in the race by claiming Dixon would cut funding to the Michigan State Police by $500 million. The massive last-minute effort to block Dixon by Democrats focused on Detroit, Flint, Grand Rapids, and Traverse City markets.
However, the poll showed Dixon maintaining a strong lead in the race with 28.4 % support with just four days to go before election day. Garrett Soldano, the chiropractor who led the Unlock Michigan efforts against Gov. Whitmer's stringent COVID-19 lockdown measures during the pandemic, is in second place with 19.2 % support. Rinke attracts 16.7 % support followed by Ryan Kelley with 13.6 %, and Ralph Rebandt at 2.8 %.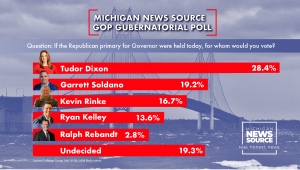 The Dixon campaign fired back this week with a cease-and-desist letter to television stations who planned to run the attack ads. In addition, she held a round table discussion with the Police Officers Association of Michigan, who already endorsed her candidacy.
The Trafalgar Group has been among the most accurate polling companies in America since 2016. The Atlanta-based company gave the poll a confidence rating of 95 % with a 2.9 % margin of error.